POS materials
Advertising display made of cardboard are a cheap way to effectively promote the brand during industry events. They are simple and quick to install, and their small size and weight make their transport virtually trouble-free.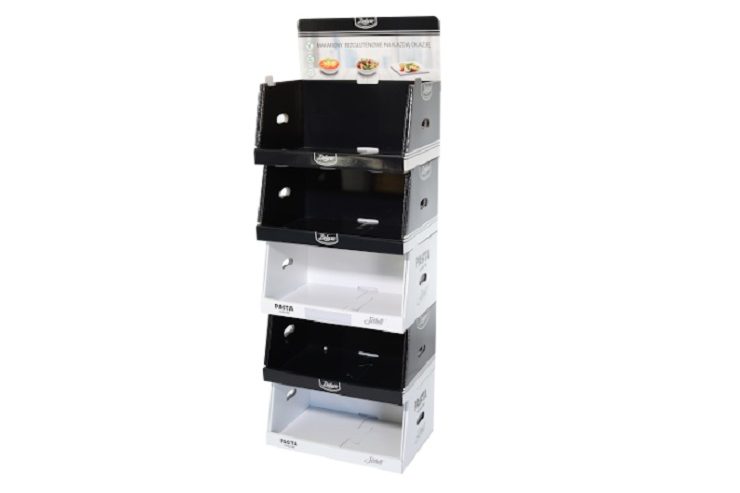 Advertising stands, attract attention and sell 
Booths or advertising stands are one of the cheapest and most effective ways to advertise brands and products. They pass the test and give good results when they are installed in stores where they effectively and with good results advertise and present branded products, as well as during industrial  events and various types of business fairs. Created from cardboard of appropriate thickness, the stands are very durable and are light and easy to transport; they pass the test with a positive result in every place and for different purposes.
Advertising stands will allow you to properly display products – thanks to modern design, packaging will attract the eye of a potential customer even from a long distance .. Their high quality allows not only to efficiently advertise a product, but also to create a positive image of this brand and increase its recognition – and this will bring profit in the future.
As experienced manufacturers of packaging and advertising materials, we offer high-quality advertising stands adapted to individual customer requirements – thanks to this you have the opportunity to adopt creative solutions of the highest quality that will ideally combine with the visual identification of the company / brand and lead to successful advertising products.
Why advertising stands from Prost-Key?
In PROST-KEY you can count on our knowledge and experience. For many years we have been designing and manufacturing advertising stands / stands. We approach each project individually, taking into account the needs and expectations of the client, taking care at the same time that the expositors are visually attractive and durable in use. On expositors we can do any kind of print. That, however, is not all!
We make advertising stands of the highest quality materials. We use cardboard / texture of the optimal form and strength parameters. The advantage of textures / cardboard expositors is their lightness, so they are not problematic during transportation.
Advertising stands impress by their esthetics. We use modern printing technologies, due to which we are able to create elegant and eye-catching stands – only such stands will allow you  effectively advertise the company.
We guarantee our customers attractive prices and instant order implementation.